Gina Green-Harris
BS, MBA
Director, Center for Community Engagement and Health Partnerships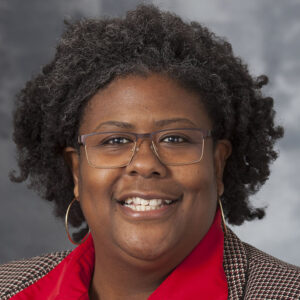 Gina Green-Harris, MBA, is Co-Primary Investigator and Co-Director for the UW All of Us Research Program. Alongside her role as inaugural Director of the award-winning Center for Community Engagement and Health Partnerships (CCE) Regional Office in Milwaukee, she oversees the UW All of Us Milwaukee team, which focuses on serving underrepresented African American and Latinx communities. Among other responsibilities, she oversees community advisory boards for Madison and the Milwaukee sites and leads the Diversity, Equity, and Inclusion Training for the UW Program.
Through CCE, Green-Harris also serves as the Director of the Wisconsin Alzheimer's Institute. As a champion of health equity, she helped guide CCE to further advance research in the African American community in a culturally inclusive manner. Green-Harris has participated in many research programs, received many awards, and has been appointed to various university and community committees. Most notably, she serves as Chair of the State of Wisconsin Governor's Health Equity Council and the NIH Community Engagement Recruitment and Retention of Underrepresented Groups Steering Committee.
She received her MBA from Franklin University in Columbus, OH, and her BS at Central State University in Wilberforce, OH. She is pursuing her doctoral degree in Clinical Investigations from the University of Wisconsin-Madison.