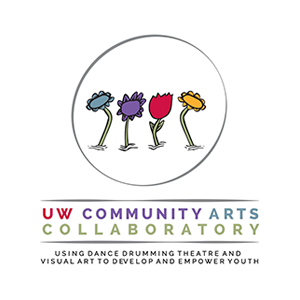 Empowering Youth as Art Makers. We provide art-making opportunities for youth to cultivate wellness and advocate for social change. Our vision is that Wisconsin youth will see themselves as learners through art-making.
This work is built upon two core beliefs:
The arts have the power to engage youth in learning as agents of creativity, intellect, and self-efficacy.
Engaged students, empowered teachers, and art making can improve well-being and change communities.
This is an accordion element with a series of buttons that open and close related content panels.
Subscribe for updates about the UW Community Arts Collaboratory
The UW Community Arts Collaboratory is dedicated to bringing the arts to under-resourced and low-income communities. Connect with us if you would like us to bring one of our programs to your community. 
Arts Collab National Endowment for the Arts Research Lab: "The Arts, Health, and Social-Emotional Well-Being."
The UW Community Arts Collaboratory is implementing a keystone study measuring social-emotional learning (SEL) outcomes for students who participate in Arts Collab performing arts programs and teacher professional development growth from arts integration and SEL training.
UW Community Arts Collaboratory Programs
Drum Power is a drum and dance experience for young people where they can develop new skills and explore African cultural traditions. Since 2001, Drum Power has served more than 3,000 young people.
Performing Ourselves is an outreach project that empowers youth and develops leaders through dance. Taught by UW-Madison dance majors, the program focuses on a movement-based curriculum.
FauHaus empowers youth of color from low-income backgrounds who have had prior court involvement by connecting them with UW-Madison art students to create collaborative, socially-engaged, art exhibitions.
Whoopensocker is a six-week residency that connects an ensemble cast of teaching artists to classrooms to create unique learning experiences. Students get the chance to work together, be creative, and perform their projects.
Partners
Supporters
Ensuring the Arts for Any Given Child Madison
Madison Arts Education Roundtable
Wisconsin Partners in Arts Education
Madison's Youth Arts Center
Elementary Schools
Schenk
Sandburg
Henry David Thoreau
Glenn Stephens
Emerson
Lincoln
Falk
Lowell
Aldo Leopold
Orchard Ridge
Madison Community Montessori School
Community Centers
Middleton Youth Center
Packers Community Learning Center
Northport Community Learning Center
Lussier Community Education Center
Allied Drive Learning Center
Elver Park Neighborhood Center
Goodman Community Center
East Madison Community Center
Vera Court Neighborhood Center