Simone Schweber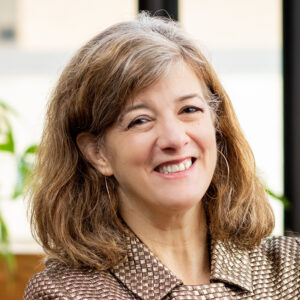 Simone Schweber is the Michael and Judy Goodman Professor of Education and Jewish Studies at the University of Wisconsin-Madison, where she has conducted research and taught classes for over 20 years. She holds a BA from Swarthmore College and a Master's and Ph.D. from Stanford University. Before becoming a professor, she served as a teacher and principal in and around the San Francisco Bay Area.
Since coming to UW, she has trained preservice teachers to teach social studies, offered professional development opportunities on a wide range of topics, and worked closely with museums and international organizations to help improve exhibits, curricula, and teacher training. Her research has focused on how people teach and learn about the Holocaust and genocide in both formal educational realms (like schools) and informal educational spaces (like museums and experiential trips).
She has published research on a broad range of projects—including how the Holocaust is taught to young children, how the Holocaust is taught in religious schools, how it is presented to public high school students, and how it appears in popular culture. She has served as the Chair of the Jewish Studies department at UW-Madison and the Chair of the Elementary Education Program in Curriculum & Instruction. Since 2016 she has served on the US Holocaust Memorial Museum's Education Council.