Juliana Urtubey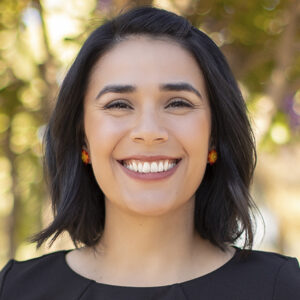 Juliana Urtubey, has been an educator for 11 years. She teaches at Kermit R. Booker, Sr. Innovative Elementary School in Las Vegas, where she serves as a co-teacher in pre-kindergarten through fifth-grade special education settings and as an instructional strategist developing supports to meet students' differing academic, social-emotional, and behavioral needs.
Known as "Ms. Earth" for her efforts to beautify schools and unify the community through murals and gardens, Urtubey has helped raise funds for garden programs at two Las Vegas schools. In one program, the garden was tended to by the student "Garden Gnomies" club and offered opportunities for innovative student learning and intergenerational learning and connections to the wider community.
As the 2021 National Teacher of the Year (NTOY), Urtubey will spend a year representing educators and serving as an ambassador for students and teachers across the nation. She advocates for a "joyful and just education" for all students, one that is inclusive and celebratory of all students' identities, families and communities.