Hosted by the University of Wisconsin-Madison, this Advanced Placement (AP) Summer Institute offers a unique learning experience for teachers interested in expanding their knowledge of AP course content, structure, and methodology. Learn from experienced AP consultants and UW-Madison faculty members who are dedicated to improving student achievement by providing teachers with valuable tools and strategies for their classrooms.
Stay Connected with the AP Summer Institute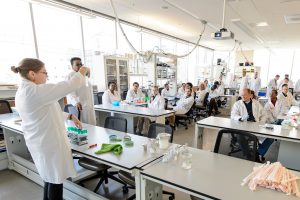 Week 1:
June 18-21, 2019
Biology* (*waitlist)
Environmental Science
Physics 1
Statistics
Registration for Week 1 is closed.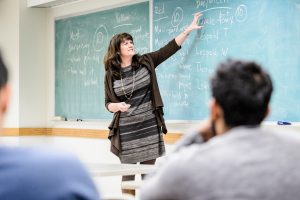 Week 2:
June ​24-27, 2019
Calculus AB & BC | Economics
English Language* (*waitlist)
English Literature
Psychology | US Government
US History | World History
Registration for Week 2 is closed.
Overview
This is an accordion element with a series of buttons that open and close related content panels.
2019-20 Changes to AP
The College Board recently announced a number of changes coming to AP courses in the 2019-20 academic year. APSI course descriptions will be updated throughout the spring to address how these new resources and procedures can be implemented in classrooms.
Registration
Registration: $825 | Credit Registration: $975
After June 7th, the cost of attending the institute will increase and spots may not be available if the course has reached its maximum capacity.
Attendees who register for credit are eligible to earn two graduate level credits as a result of the work completed during the APSI. Credits will appear on a UW-Madison transcript. Requirements for additional work outside of class vary by course. All coursework will be completed by July 1st.

Schedule
Session 1 (June 18-21): Tues.-Thu. 8:00a-4:30p Fri. 8:00a-3:30p
Session 2 (June 24-27): Mon.-Wed. 8:00a-4:30p Thu. 8:00a-3:30p
Scholarships
The Office of Professional Learning and Community Education (PLACE) is pleased to announce that we are offering 12 partial scholarships in the amount of $500. Scholarships will be awarded to applicants whose responses best align with the PLACE and College Board's mission of increasing equity and access in Advanced Placement courses. The College Board also offers scholarships for educators in schools with varying requirements. Use the link below for additional information.
College Board Scholarship Information: Deadline: February 12th
​PLACE Scholarship Application: Deadline: ​March 15th
Location
Session 1: Biology & Environmental Science: Wisconsin Institutes for Discovery Building, 330 N. Orchard St., Madison, WI, 53715
Physics & Statistics: Union South, 1308 W Dayton St, Madison, WI 53715
Session 2: Calculus AB & BC,  ​Economics, English Language, English Literature, Psychology, U.S. Government, U.S. History, World History: Pyle Center, 702 Langdon St., Madison, WI 53706
Housing
Parking
Refund and Cancellation Policies
Refund Policy
If you have registered for the institute and cancel 30 days or more before the event starts you will receive a full refund of the registration amount minus a $50 administrative fee.  If you cancel less than 30 days in advance of the institute there will be no refund. Please contact Matthew Freid for more information.
Cancellation Policy
We reserve the right to cancel a course if enrollment is insufficient. Courses with insufficient enrollment will be cancelled no later than June 1, 2019. All participants and schools will be notified if a course is cancelled. Participants registered in a cancelled course will receive a full refund. The reimbursement will be issued to the individual or school who paid the registration fee. We do not reimburse travel, lodging, or any other expenses associated with our institute in the case of a course cancellation.
Course Information
This is an accordion element with a series of buttons that open and close related content panels.
Biology
Calculus AB/BC
Economics
English Language and Composition
English Literature and Compostion
Environmental Science
Psychology
Physics
Statistics
US Government
US History
World History
College Board, AP, Advanced Placement Program, and the acorn logo are registered trademarks of the College Board. Used with permission.