39TH ANNUAL UNIVERSITY OF WISCONSIN LITERACY RESEARCH SYMPOSIUM
– KEN GOODMAN: A HISTORY OF THE PRESENT
The University of Wisconsin System is moving its annual Literacy Research Symposium online this summer. This special format will feature the life and work of Professor Emeritus Kenneth S. Goodman of the University of Arizona.
On Thursday, June 18, participants will get an introduction to Ken Goodman's work as well as an opportunity to choose readings from his early years in an interactive online forum.
Four weeks later on July 9, we will honor Doctor Goodman by reflecting on the ways in which his work grew and changed over the years, the significant contributions he has made to the field of literacy education, the political and historical contexts of reading education over time, and a reading of his work as speaking back to the socio-political moment both then and now.
Be the first to know when this program is scheduled to run—subscribe for updates below.
This is an accordion element with a series of buttons that open and close related content panels.
Subscribe for updates about the Literacy Research Symposium
Professor Emeritus Kenneth S. Goodman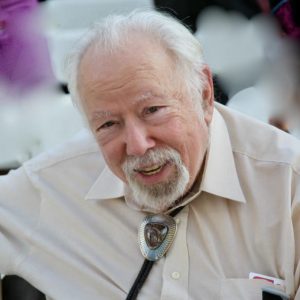 Kenneth S. Goodman, often referred to as the founding father of the whole language approach to reading, passed away recently and peacefully at home on March 12. He was 92. He is survived by his wife and colleague, Yetta M. Goodman, with whom he collaborated frequently.
Goodman, professor emeritus at the University of Arizona, served as president of the International Reading Association (now International Literacy Association) from 1980 to 1981 and at-large board member from 1976 to 1979. Throughout his storied career, he earned some of the highest honors in the field, including the William S. Gray Citation of Merit in 1986. In 1989, he was inducted into the Reading Hall of Fame.
Widely considered one of the most influential scholars in the field, Goodman's work was often as polarizing as it was pioneering. He once famously described reading as a "psycho-linguistic guessing game." His concept of written language development being parallel to oral language development led to the whole language approach as well as further research into related concepts such as miscue analysis and the three-cueing system. This body of research, though highly debated, continues to serve as a foundation in many early reading classrooms.
C&I, ONLINE SEMINAR IN LITERACY, UW–MADISON
Take the associated four-week UW–Madison course if you would like a deeper experience.
June 15–July 12, 2020 (first four weeks of summer school)
Tuesdays and Thursdays, 12:30–3:30 CDT, online only
Contact: Professor Dawnene D. Hassett ddhassett@wisc.edu
If you are not a current UW–Madison student, apply to become a "Special Student" for the summer term Here
QUESTIONS ABOUT THE TWO-DAY ONLINE SYMPOSIUM?