Teaching about elections is one of the best opportunities to prepare young people for political engagement. This conference helps educators teach about electoral politics in a way that is engaging, respectful to all points of view, and supported by the best and most current information.
What To Expect
The Teaching About the 2022 Elections Conference is an exciting opportunity for K-12 teachers and administrators to:
Learn about important election-related issues

Access resources that support instruction and enhance student learning

Be introduced to national civic education programs and their curricula
Politics can be divisive, confusing, and challenging to approach. This conference will help educators find ways to ensure their students can discuss these sensitive and important topics with care, knowledge, and facts.
Registration includes breakfast, lunch, refreshments, and a conference t-shirt!
Program Details
When: September 24, 2022, 9:00 a.m.–3:30 p.m. CDT
Where: Grainger Hall, 975 University Avenue, Madison, WI 53706
*Program Fee: $25
*This conference is funded by the Gibb Democracy Education Fund and the Claudia Grams Pogreba Fund. Mary Hopkins Gibb is a 1955 School of Education alumna. Her husband, Bill, was a 1953 Wisconsin School of Business alumnus. Claudia Grams Pogreba is a 1970 School of Education alumna.
This is an accordion element with a series of buttons that open and close related content panels.
Subscribe for updates about Teaching About the Elections
Schedule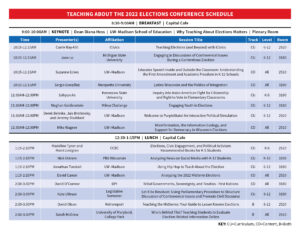 Keynote Session: Why Teaching About Elections Matters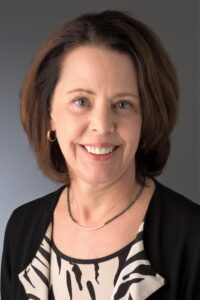 Diana Hess has been dean of UW–Madison's School of Education since Aug. 1, 2015. She is only the ninth dean of the School of Education since its founding in 1930.
At UW–Madison, Hess is the principal investigator of The Discussion Project, a professional development program that aims to strengthen campuswide capacity to create welcoming, engaging, and academically rigorous classroom environments in which students experience productive classroom discussions on important issues and topics. In 2019, the Mellon Foundation awarded The Discussion Project a $1 million grant to increase the number of cohorts at UW–Madison, expand to other schools, and undergo an in-depth study.
Since 1997, Hess has been researching how teachers engage their students in discussions of highly controversial political and constitutional issues, and what impact this approach to civic education has on what young people learn. Her first book on this topic, "Controversy in the Classroom: The Democratic Power of Discussion," won the National Council for the Social Studies' Exemplary Research Award in 2009. Her most recent book, "The Political Classroom: Evidence and Ethics in Democratic Education," co-authored with Paula McAvoy, won the American Educational Research Association's Outstanding Book Award in 2016 and the prestigious Grawemeyer Award in 2017. Also in 2017, Hess was recognized by the National Council for the Social Studies with the Grambs Distinguished Career Award for Research.
Hess began her education career as a high school social studies teacher in Downers Grove, Illinois, in 1979. During her time there, she became president of the Downers Grove teachers' union. She then went on to work as the associate director of the Constitutional Rights Foundation Chicago from 1987 to 1995.
Hess earned her PhD in 1998 from the Department of Curriculum and Instruction at the University of Washington–Seattle with extensive coursework in educational policy and law. In 2018, she received the University of Washington College of Education's 2018 Distinguished Alumnus Award. Hess holds a master's degree from the University of Illinois at Urbana-Champaign and a bachelor's degree from Western Illinois University.
Concurrent Sessions
This is an accordion element with a series of buttons that open and close related content panels.
Analyzing the 2022 Midterm Elections
Professor David Canon will talk about many of the issues concerning the elections this fall: Will Republicans gain control of the House and Senate? Why does the out-party almost always make gains in the midterm elections? What impact will the politics of abortion have on turnout and the outcome of elections?  What impact will the politics of abortion have on turnout and the outcome of elections? 
There also will be plenty of time for questions and discussion.
David T. Canon is a professor in the political science department at the University of Wisconsin-Madison. He served as chair of the department from 2014-2017 and in Fall, 2020. He received his Ph.D. from the University of Minnesota and previously taught at Duke University. He also served as the Distinguished Fulbright Chair in Tübingen, Germany in 2011-2012 and Debrecen, Hungary in 2003-2004. His teaching and research interests are in American political institutions, especially Congress. His more specific research interests include election administration, racial representation, redistricting, political careers, and the historical study of Congress
Analyzing News on Social Media with K-12 Students
Evaluating the information they encounter online is an increasingly crucial skill for students. In this session, we will give examples of lessons K12 teachers can use to foster critical thinking skills and teach students how to be savvy consumers of news information. Using the PBS/KQED Media Literacy Certification mini-credential as a guide, participants will learn skills like lateral reading, identifying and counteracting bias in news media, fact-checking, identifying misinformation, and how to find reliable news sources. Participants will come away with concrete strategies for facilitating the analysis of online news media for middle and high school students and a list of resources to implement in their classrooms.
Nick Ostrem is a 3rd – 12th grade Education Engagement Specialist with PBS Wisconsin Education. With a background in archaeology and history education, he strives to empower learners to see themselves in the past, present, and future. In his role he supports educators and students by facilitating youth media creation and media literacy initiatives. Prior to his work with PBS Wisconsin Education, Nick worked as the Museum Educator and National History Day Coordinator for the Wisconsin Historical Society.
Educator Speech Inside and Outside the Classroom: Understanding the First Amendment and Academic Freedom in K-12 Schools
How does the First Amendment apply to educators in and out of the classroom? As educators, how do we navigate the current political landscape when teaching about elections? Join us for a discussion around these questions in this session.
Suzanne Eckes is the Susan S. Engeleiter Professor of Education Law, Policy, and Practice at the University of Wisconsin-Madison School of Education. Much of her research focuses on how civil rights laws impact education policies in K-12 public schools. She is a co-author or co-editor of several articles and books, including Legal Rights of School Leaders, Teachers and Students (8th ed., Pearson). She is a faculty affiliate with the University of Wisconsin Law School. Prior to becoming a professor, she was a lawyer and a public high school teacher.
Elections, Civic Engagement, and Political Activism: Recommended Books for K-5 Students
CCBC librarians will present recently published books including fiction, nonfiction, and picture books, for K-5 students on elections, civic engagement and political activism, from the 20th century to contemporary times.
Madeline Tyner and Merri Lindgren are librarians at the Cooperative Children's Book Center of the School of Education at the University of Wisconsin-Madison.
Engaging in Discussions of Controversial Issues during a Contentious Election
This session will focus on strategies for engaging students in discussions of controversial issues within polarized teaching contexts. The session will include both pedagogical strategies as well as strategies for developing classroom community and administrative and parent support.  The session will also discuss how national-led rhetoric may impact local politics and social studies teaching in an election year
Jane C. Lo is an assistant professor of teacher education at Michigan State University. Her research focuses on civic education broadly. Specifically, she is interested in the political engagement of youth, social studies curriculum development and the inequalities that exist within traditional civic education. Her methodological expertise includes mixed-methods designs and design-based implementation research. She teaches undergraduate and graduate courses in social studies methods. Her most recent work can be found in Multiple Perspectives and Democracy & Education. Prior to becoming a teacher educator, she taught government, economics and Chinese in Austin, Texas.
Engaging Youth in Elections
Even students who are not eligible to vote can have their voices heard and learn about elections and the democratic process. Participants in this session will learn strategies to engage students in campaigns and elections by having them explore their own ideologies, learn about the candidates, explore media messages, develop their ability to be critical consumers of information, and find creative ways to get involved in the election process.
Meghan Goldenstein came to Mikva Challenge in 2010 following previous work as a children's librarian, a teacher, and a field organizer during the 2008 presidential campaign. Having been transformed by her own campaign experiences, she loves encouraging and empowering youth to become active participants in elections (much earlier than she did). As the Elections in Action program director, she works with Chicago area teachers and campaign staff to create opportunities for Mikva youth to gain hands-on experience with electoral politics.
Inquiry into Asian American Fight for Citizenship and Right to Vote in Elementary Classrooms
Who can/should belong in America? Who can/should have right to vote? At its formation, the United States defined citizenship as the province of white male property owners and limited naturalization only to free white persons. Against whiteness as the criterion of citizenship, Asians had been racialized as unassimilable others and barred from entering the United States through anti-Asian immigration laws and becoming American citizen through racist naturalization laws. It was not until 1952 that all Asian immigrants were finally eligible for naturalized citizenship and voting rights as a privilege of citizenship.  This session engages elementary school teachers with content pedagogic knowledge to incorporate Asian American struggles with and fight against discriminatory laws regarding citizenship and voting rights. Children's literature and primary sources of several historical cases will be highlighted.
Sohyun An is a professor of social studies education at Kennesaw State University. She received B.S. and M.S. degrees in social studies education from Seoul National University in South Korea, and Ph.D. degree in Curriculum and Instruction from the University of Wisconsin-Madison. As a social studies teacher educator and curriculum scholar, her teaching and research center on K-12 Asian American studies, anti-racist social studies curriculum, critical race pedagogy, and critical war studies. She has contributed to Smithsonian and PBS curriculum projects and had her research cited in many media outlets, including CNN, Time, New York Times, Reuters, Time and USA Today.  Dr. An has been actively involved in teacher professional development and curriculum writing for teaching Asian American histories in K-12 schools in GA and other states. She received many awards including  Early Career Faculty Award, Outstanding Teaching Award, Outstanding Research Award, and Distinguished Professor Award from her university as well as  Distinguished Researcher Award from American Educational Research Association's SIG Research on the Education of Asian Pacific Americans.
Latinx Wisconsin and the Politics of Integration
This session surveys methods of integrating the century-long history of Latinx migration to Wisconsin into discussions of contemporary electoral politics in the secondary school classroom. Participants will discuss the central themes of citizenship, assimilation, exclusion, and incorporation that have framed the settlement experience of Latinx people to this state, and the way in which these topics continue to influence contemporary questions of political engagement and civic education.
Sergio M. González is an assistant professor of Latinx Studies in the Departments of History and Languages, Literatures, and Cultures at Marquette University. As a historian of twentieth-century U.S. immigration, labor, and religion, his scholarship focuses on the development of Latino communities in the U.S. Midwest. His first book, Mexicans in Wisconsin (Wisconsin Historical Society Press, 2017), offered a concise introductory history of Mexican settlement and community formation across the state. His current project, Strangers No Longer: Latino Belonging and Faith in 20th Century Wisconsin, explores the relationship between Latino communities, religion, and social justice movements in twentieth century Wisconsin. González has bridged his academic scholarship to broader audiences by serving as a founder of the Dane Sanctuary Coalition as well as serving on the board of Voces de la Frontera, Wisconsin's largest and most active membership-based immigrant justice organizatio
Let it be Resolved: Using parliamentary procedure to structure discussion of controversial issues and promote civil discourse
Discussion of controversial issues is one of the proven practices of high quality civics education, but often teachers are wary of bringing live political issues into the classroom in our increasingly polarized environment.  During this interactive session we will explore the potential for using parliamentary procedure to structure discussion of current controversies, utilizing another proven practice: simulation of authentic civic roles. We will dig into how parliamentary procedure can support civil discourse, broaden engagement, and teach the skills of deliberation that are so critical for a thriving democracy.  Participants in this session will leave with resources and tools that can be adapted for any grade level, and put into practice immediately. 
Kate Ullman taught social studies at Middleton High School where she led the adoption of the semester-long Legislative Semester simulation as the curriculum for a required government class. Until recently she taught in the Teacher Education Program at Northland College in Ashland, Wisconsin, and serves on the CiviXNow State Policy Task Force, and the Civic Health of Wisconsin Steering Committee.  She is currently starting a non-profit organization to support further expansion of the Legislative Semester simulation.  Kate holds a BA in International Relations from Stanford University, and a MS in Applied Economics from UW- Madison.
Misinformation, the Information Ecology, and Support for Democracy in Wisconsin Elections
Using panel surveys of Wisconsin adults, this presentation highlights how individuals' information diets are related to their beliefs in election-related misinformation and their support for democracy-oriented outcomes. Strategies for teaching how news use, social media use, and the people individuals talk politics with are critical factors in determining what people know, want, and do will be discussed.
Michael W. Wagner is a professor in the University of Wisconsin Madison's School of Journalism and Mass Communication.  His research, teaching, and service are animated by the question, "how well does democracy work?"  Wagner approaches this question from a variety of perspectives, incorporating into his work the study of political communication, political parties, journalism, public opinion, political psychology, political behavior, religion and politics, the presidency, and biology.
An award-winning teacher, Wagner teaches courses from the 200-to-800-levels focusing on reporting, political communication, media and behavior, physiology and communication, fact-checking (where he runs the fact-checking site The Observatory with Lucas Graves), public opinion and opinion writing. Wagner was a Madison Teaching and Learning Excellence Fellow at UW-Madison in 2012-13 and was named the Hazel R. McClymont Distinguished Teaching Fellow while on the faculty of the University of Nebraska-Lincoln's (UNL) Department of Political Science in 2012.
Teaching Elections (and Beyond) with iCivics
Join iCivics as we introduce resources that help you meet the unique challenges and opportunities that arise from teaching around election season. From games to lessons to student-powered engagement, iCivics is here to help you make the most of this timely opportunity.
Carrie Ray-Hill oversees the conceptualization and development of iCivics' educational resources, with a focus on teacher usability and student engagement. During her 10+ years at iCivics, she has managed the design and created content for iCivics video games and digital learning tools. Prior to joining the iCivics team, Carrie taught social studies and language arts in grades 4-12. In addition to seeking out the finest of cheeses, Carrie spends her spare time watching British panel shows and killing zombies.
Teaching the Midterms: Your Guide to Lesser Known Elections
The Midterms are coming! Presidential elections get all the love, but these off-year elections deserve greater attention, particularly in the classroom. What are midterms and how do they shape the political landscape, both historically and today? Participants will explore Retro Report's new collection of videos and classroom resources centered on historic midterm elections. Learn about how midterms have shaped the makeup of political parties and political discourse, and leave with free multimedia tools to have students examine this biennial exercise in our democratic republic.
David Olson serves as the Director of Education at Retro Report, a non-profit media company dedicated to connecting history to today's news.  In his capacity, David designs Retro Report's free curriculum and professional development.  Prior to joining Retro Report, David taught for more than a decade at Memorial High School in Madison, WI. Besides his previous role teaching AP Government, Criminal Justice, and other Social Studies courses, David spreads his passion for civic education by serving on the iCivics Educator Network, the Teacher Advisory Board for the National Constitution Center, and the Wisconsin Council for the Social Studies.
Tribal Governments, Sovereignty, and Treaties - First Nations
This session will provide an overview of tribal governments, sovereignty, and treaties of American Indian nations in Wisconsin and throughout the United States. The concept of tribal sovereignty for tribal nations centers on the concept that they have the inherent right to self-govern. Based on the United States Constitution, treaties, and Supreme Court decisions, Indigenous nations have a unique government-to-government relationship with the U.S. federal government, and are largely independent of state, local, and county governments. Session participants will examine why it is important to generate a deeper and more complex understanding of tribal governments, sovereignty, and treaties and how it has and continues to impact the state of Wisconsin and the United States.
David J. O'Connor is originally from and is a member of the Bad River Band of Lake Superior Chippewa (Ojibwe) in northern Wisconsin. In January 2012, he became the American Indian Studies Consultant at the Wisconsin Department of Public Instruction (DPI). In David's role at DPI, he supports school districts' efforts to provide instruction on the history, culture and tribal sovereignty of Wisconsin's American Indian nations and tribal communities, often referenced as Wisconsin Act 31 and the education of Native American students.
Using Hip Hop to Teach About the Election
In this session you will learn how to use hip hop pedagogy to process relevant views and information for the election.
Jonathan Tunstall is a full time PhD student at The University of Wisconsin-Madison.  He spent eight years as a social studies teacher in New York City where he developed justice-oriented pedagogies. His research centers on critical civics and joyful learning through the arts particularly through hip hop.
Welcome to PurpleState! An Interactive Political Simulation
This session will introduce you to a simulation designed to help your students deepen their awareness of current political issues and the role of media and money in our political system.  Students engage in developing skills in argumentation, critical media and data literacy, and analysis of state level policy issues as they play the role of an intern at a political communications firm, PurpleState.  They also reflect on the political media ecosystem they experience in the simulation as they apply it to their own civic and media engagement.
Jeremy Stoddard is Professor and the Faculty Chair of the Secondary Education Program. His research examines the role of media in teaching and learning history and democratic citizenship – with a particular focus on engagement with difficult or marginalized histories and contemporary controversial issues. His work has been published in Journal of Curriculum Studies, Teachers College Record, Curriculum Inquiry, and Learning, Media and Technology. He has also co-authored or co-edited three books, including Teaching Difficult History Through Film (Routledge, 2017). He has served as Editor for Theory and Research in Social Education and has held national leadership roles in the Teaching History SIG of AERA and as a member of the Executive Board of the College and University Faculty Assembly of the National Council for the Social Studies. Prior to joining the UW faculty in 2019, Stoddard was on faculty at William & Mary, where he served as Chair of the Department of Curriculum & Instruction, founded and directed the interdisciplinary program in Educational Studies, and was an affiliated faculty of the Film and Media Studies program.
Co-Presenters: Derek Behnke and Jais Brohinsky
Who's behind this? Teaching students to Evaluate Election-Related Information Online
We increasingly learn about the world online. How can we help students evaluate digital content and find information they trust, especially when it comes to elections and other issues that affect students' lives and communities? This interactive session will focus on research-based approaches to teaching students to evaluate social and political content online. Participants will get an inside look at how fact checkers evaluate online information and analyze approaches to teaching effective evaluation strategies. Throughout the session, you will have opportunities to apply what you learn to your own classroom context and see examples of how teachers have integrated lessons in online evaluations into their content areas. You'll leave this session with concrete strategies and resources you can use right away to support students as they learn to evaluate online information.
Sarah McGrew, University of Maryland, College Park. Dr. McGrew studies educational responses to the spread of online mis- and disinformation, focusing on how young people evaluate online information and how schools can better support students to learn effective evaluation strategies. As part of the Stanford History Education Group, She developed and tested curricula designed to teach online evaluation strategies. Her current research focuses on two related questions: how best to support teachers to learn evaluation strategies and design lessons for students, and how to design lessons that are rooted in civic and community issues that students know and care about. Dr. McGrew earned a B.A. in Political Science and Education from Swarthmore College and an M.A. and teacher certification in the Stanford Teacher Education Program. She taught high school history in Washington, D.C. for five years before returning to Stanford to complete her Ph.D. in Curriculum and Teacher Education.
Contact
If you have questions about Teaching About the 2022 Elections, please email PLACE Conference and Event Planning Services at conferences@education.wisc.edu.