Working and Learning Through Artistic Process
The Wisconsin Arts Integration Symposium is designed for teachers, teaching artists, and community educators. 
Our Goals
Provide arts integration tools and professional development for teachers and teaching artists
Support the integration of curriculum standards for arts and core subjects
Provide experiential training with tangible take-aways for implementation
Support implementation in educational settings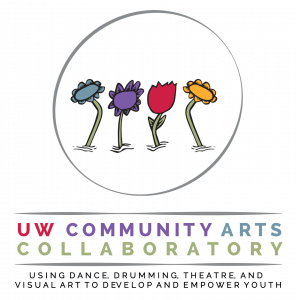 Part 1
Friday, September 20, 4:00 PM to 6:00 PM
Saturday, September 21, 8:30 AM to 4:00 PM
Part 2
Friday, January 17, 4:00 PM to 6:00 PM
Saturday, January 18, 8:30 AM to 4:00 PM
Where: The Spark Building, 821 E. Washington Ave, Madison, WI 53703
Program Fee: $50.00
(MMSD teachers will be reimbursed upon attending)
Registration and schedule for Part 2 available soon.
Connect with the Wisconsin Arts Integration Symposium
Arts Integration Symposium Part 2 Schedule
Coming soon!
Arts Integration Symposium Part 1 Schedule
Arts Integration Symposium Workshops Part 2
More information on the Part 2 workshops coming soon!
Arts Integration Symposium Workshops Part 1
When Art Becomes a Tool for Gentrification and How to Combat This
Introductory Keynote: Friday, September 20, 4:15 to 5:00 PM
Jenie Gao, our keynote speaker on Friday, is a full-time artist, first generation American, and woman of color. In the art community, artists are stuck in a culture that requires artists to be grateful just to be seen, creating a lopsided power dynamic that makes it easy for developers to exploit artistic labor and use murals, public art, and other community art projects as a cheap way to gentrify an area under the label of revitalization.
In this address, Jenie will include
How to value creative labor
How to make projects and programming financially viable
How the way we structure policies can shape our relationship with the arts in our community
Understanding the different ways the arts get used for gentrification, and the way education for artists and communities get suppressed to keep them unaware of this
The importance of diversifying every level of our organizations, including our leadership and decision-makers.
Resistance as Joy
Saturday September 21, 1:00 PM to 2:00 PM &  Saturday, September 21, 2:15 PM to 3:15 PM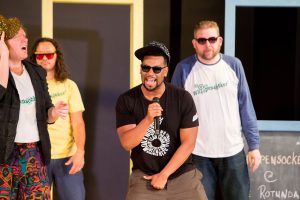 Jonathan Tunstall, a rapper and spoken word artist, splits his time creating art and educating communities, making a space for African American and Latino students to feel heard. This session will focus on using Hip Hop as an interpretation tool to analyze canonical text. Being inquisitive and trusting opinions and following a student-driven, empowering study, we can be more successful and educated artists.
Time Traveling Through History with Theater
Saturday, September 21, 1:00 PM to 3:15 PM
Danielle Dresden, playwright, actor, and residency artist, and producing
artistic director of TAPIT/new works Ensemble Theater, shows teachers in grades 4 – 8 how they can draw on the tools of theater to help their students bring key moments in History, or key issues in Social Studies, to life, fostering deeper learning and forging stronger connections with course content. This seminar uses Immigration to Wisconsin as the subject matter, but the techniques teachers will work with can be adapted to cover any historical period or aspect of Social Studies. Just as teachers will be getting their students to time travel in history, they'll do a little shape shifting themselves, alternating between their current roles as educators, and seeing what it's like to do these activities as a 4th-8th grader.
Unravel the Mystery of Flight! Discover the Laws of Motion Through Movement
Saturday, September 21, 11:00 AM to 12:00 PM
Karen Mcshane-Hellenbrand, B.S. Dance Education, and M.F.A. is an educator, choreographer, and performer who is sharing a workshop that will help teachers increase their students' understanding of scientific laws of motion. Abstract concepts are explored while students move their bodies through space. Under the thematic umbrella "airplane", teachers will learn to create a dynamic movement pattern that represents thrust, drag, lift, and weight.
Real-Time Social Emotional Learning through the Arts
Saturday September 21, 1:00 PM to 2:00 PM &  Saturday, September 21, 2:15 PM to 3:15 PM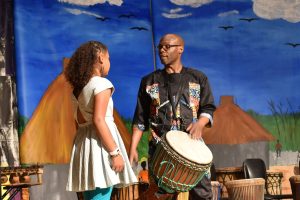 Yorel Lashley, leads participants to experience, deconstruct and build foundations for social emotional skill-based arts integration in this hands-on workshop. We will make art, learn skills and build community through an art activity that allows us to experience social emotional learning (SEL) arts integration that will serve as a model to then deconstruct so that participants can build their own SEL art integration plans. Come learn by doing!
Character Traits and Identity: Building Community Through Dance
Saturday, September 21, 9:45 AM to 12:00 PM
Karen Mcshane-Hellenbrand, B.S. Dance Education, and M.F.A. is an educator, choreographer, and performer. Attendees will participate in multiple activities that utilize Dance and Visual Art concepts as an Arts Integration methodology to understand character traits and personality. Additional sample lessons will be presented to help students understand the difference between character traits and gender. The culmination of experiences will reveal our shared attributes and our unique and cherished differences. The content utilizes fun emojis and dance elements that is accessible and fun!
Playing Together: Theater Games to Develop Empathy and Collaboration
Saturday, September 21, 9:45 AM to 12:00 PM
Terry Kerr, actress, director, and educator, will teach participants to learn and practice strategies that will help students consider other's feelings and support one another in collaborative work and play. Collaboration is a critical 21st Century learning skill and an essential life skill. Empathy or the understanding and sharing of another's feelings greatly contributes to a student's ability to collaborate.
Hispanic and Native American Children's Songs and Stories as Pedagogical Goals and Tools
Saturday, September 21, 9:45 AM to 12:00 PM
Dr. Beatriz Aguilar, music Professor at Edgewood College, will focus her presentation on the ways in which Hispanic and Native American children's songs can be used as a tool to teach social sciences and literature as well as music concepts. For example, we will find the ways in which a story develops moments of tension and release, and how musical concepts can be used to stress those moments of tension and release, using harmonic/melodic/dynamic/tempo tension. Incorporating movement and stressing authenticity, this presentation will be active and educational.
Supporting English Language Learners in and Through the Arts with Whoopensocker!
Saturday, September 21, 1:00 PM to 2:00 PM & Saturday, September 21, 2:15 PM to 3:15 PM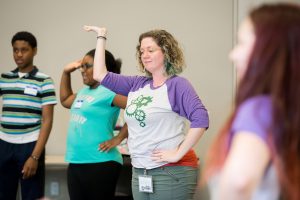 Whoopensocker is a creative arts residency program focused on writing and theatre as forms of expression. This session will provide hands on experiences with Whoopensocker's tools and techniques, focusing on how our work supports English Language Learners (ELLs). We will talk both about how Whoopensocker supports ELLs to participate fully in arts-based learning experiences and how the arts themselves are productive pathways for ELLs to feel supported in their academic work. Teaching artists and classroom teachers will work together to demonstrate how we value the language resources of all the students in our learning space
Unpacking Arts Integration & Social Emotional Learning
Friday, September 20, 5:15 PM to 6:00 PM
Yorel Lashley, educational psychologist and Arts Collab Director, leads participants to deconstruct, reconsider and build foundations for understanding and applying arts integration and integrating arts curricula with social emotional skills-based curricula/programs. Through an art-focused reflective activity, we will form plans using arts integration for students to practice social emotional learning (SEL) that can serve as models for future and current programs.