Play, Experience, Connect
The Wisconsin Arts Integration Symposium is a community for teachers, teaching artists, and community educators.
This year's symposium, which focuses on fully integrating social emotional learning through the arts, will offer workshops featuring practices, routines, and learning objectives that center identity, agency, and belonging for student and educator empowerment.
Participants will:
Engage in experiential training with peers

Gain tangible strategies and activities to implement immediately in classrooms and learning communities

Connect with peers through art-making and centering the values that drive our collective work – developing the minds and spirits of young people
When: Saturday, October 7, 9:00am – 4:00pm
Where: MYArts, Madison's Youth Arts Center, 1055 E. Mifflin St. Madison, WI 53703
Registration Fee: $25 full day | $15 morning only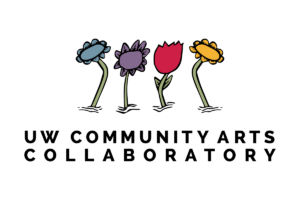 This is an accordion element with a series of buttons that open and close related content panels.
Subscribe for updates about the Wisconsin Arts Integration Symposium
Schedule
Time
What
Description
Location

9:00 – 9:45

Welcome & Keynote
Opening Activity

Keynote – Youth Empowerment Through the Arts
Dr. Yorel Lashley and Dr. Erica Halverson

UW Community Arts Collaboratory leaders invite us to experience what students experience, feel what students feel, and understand the choices that teaching artists make to support them. This "active keynote" will present practices, priorities, and research as shared experiences of joy and youth empowerment that set the stage for the Arts Collab workshops and invited workshops that follow.

BlackBox

10:00 – 10:50 

Workshops 1
Arts Collab Workshops, Part 1

Experience Drum Power and Whoopensocker as hands-on activities that allow participants to experience connection, collaboration, and empowerment in the way kids do.

Studio 4D – Drum Power

Studio 4C – Whoopensocker

10:50 – 11:00

Break

11:00 – 11:50

Workshops 2
Arts Collab Workshops, Part 2

Experience Drum Power and Whoopensocker as hands-on activities that allow participants to experience connection, collaboration, and empowerment in the way kids do.

Studio 4D – Drum Power

Studio 4C – Whoopensocker

11:50 – 1:10

Lunch and Special Event
BlackBox

1:10 – 2:15

Workshops 3
Invited Workshops

Featuring powerfully effective arts educators in a range of arts activities.

Filling the Empty Cup – Artmaking as a Care, Sustainability, & Reflection Practice
Emily Nott & Jalessa Bryant

Many educators have experienced the feeling of "pouring from an empty cup." This workshop will provide time, space, and strategies to reflect with a set of artmaking tools offered for personal praxis. This session will also provide a creative, participatory, dedicated space where busy practitioners have time to breathe, make, reflect, and explore the factors that allow them to continue in their work without pouring from an empty cup. We will explore the distinction between self-soothing, self care, community care, institutional, and structural care. We will discuss pathways to advocacy for support for ourselves and our work as formal and informal educators. Participants will experience artmaking activities that can be used in their personal praxis as well as adopted and adapted in teaching and learning spaces.

Tapping into Immigrant/Refugee/Migrant Backgrounds: Arts-Based Storytelling for Belonging
Chundou Her & Nilvio Alexander Punguil Bravo

"Where have I been, who am I, and where am I going?" These are key questions educators can use to guide and support students in developing reflective skills that allow them to see the wealth of their cultures, experiences, and communities. Tapping into our immigrant/refugee/migrant backgrounds, we explore the ways in which arts are not just exploratory but also foundational in establishing place, belonging, and agency. Facilitators will guide participants through visually representing "where I've been" and "who I am," and then transforming "where I am going" into something new. 

Artmaking and Adaptive Instruction
Jennie Mullins 

In this paper collage workshop, participants will use shape, paint, and glue to experience making art. Participants will work both individually and in groups to create small collages, investigate and consider the language of artmaking instruction, and explore strategies for making our language more accessible to everyone. Jennie is a teaching artist with Arts For All.

Studio 4C

Studio 4B

Studio 4A

2:15 – 2:25

Break

2:25 – 3:30

Workshops 4
Arts Connection Culminating Workshops

Enjoy large group artistic expression playgrounds as we experience and connect in grand fashion.

Fostering Connections and Collaboration through Improvisation
Lisa Barker

Teaching requires being responsive to the evolving needs of learners in real time. Improvisation is a powerful tool to meet these demands. In this workshop, participants will engage in interactive exercises that explore the fundamentals of improv! Improv principles—listening actively, failing cheerfully, making others feel safe and look good—can foster healthy relationships that serve teaching, learning, and team-building.

Art and Cultural Education: Experience traditional Mexican culture through Aztec music, song and dance

Henry Cervantes

As we celebrate Hispanic Heritage Month, explore the role that arts play in cultural identity. Join us for a demonstration of traditional Aztec song and dance and experience an educational presentation honoring the heritage of the Indigenous people of ancient Mexico. Xochitl-Quetzal means "Precious Flower" in Nahuatl, the Aztec language.

Studio 4C

Studio 4D

3:30 – 4:00 

Closing
Closing Activity

Celebratory dancing with Francis Medrano, closing reflections, and networking.

Studio 4D
WHAT OUR PARTICIPANTS ARE SAYING
"I loved that there were so many different workshops to choose from with a wide range of skills."
"Presenters were very knowledgeable and willing to answer questions and clarify."