The Creative Process
Mission
Performing Ourselves is a dance outreach project based in Madison, Wisconsin, that empowers youth and develops leaders through dance. The program teaches a movement-based curriculum to youth in schools and local community centers. Performing Ourselves combines dance education, dance/movement therapy principles, and performance to foster embodiment, resiliency, and positive self-concept in community youth.
Vision
Performing Ourselves follows an innovative curriculum. We use movement to build the 7 C's for Fostering Resilience (Kenneth Ginsburg):
Confidence
Competence
Personal Character
Ability to Contribute
Sense of Control
Coping Skills
Connection to each other and surroundings
These building blocks of resiliency empower and equip our participants. Performing Ourselves caters to youth who are 5-14 years old: 90% are children of color, and 95-100% are experiencing poverty.
Value
"Movement activates the neural wiring throughout the body, making the whole body the instrument of learning" – Carla Hannaford, author of Smart Moves: Why Learning is not all In Your Head
Art and movement are an essential and enriching part of youth's lives. Dance improves motor skills, decision making, creativity, risk-taking cultural understanding, attentiveness, and awareness. Performing Ourselves brings quality dance programming to youth who would typically have difficulty accessing these opportunities.
Impact
A 2014 report by the Any Given Child Madison team revealed that 0% of kindergarten through sixth graders, 3% of seventh graders, and 5% of eight graders in the Madison Metropolitan School District were enrolled in a dance course taught by a certified specialist. Entering its seventh year of programming, Performing Ourselves has served hundreds of youth participants, and employed over 20 university students. We have impacted numerous community centers, schools, and after school programs all around the city of Madison. Program teachers have learned valuable skills that they have taken into their lives beyond the university.
Performing Ourselves Numbers
Performing Ourselves engages with undergraduate dance majors to share the joy of creative dance, movement expression, and performance. In the 2018-2019 school year, programming and residencies took place at Orchard Ridge, Leopold, Sandburg, Mendota, and Frank Allis Elementary, as well as Allied Drive, Lussier, Madison Community Montessori School, Elver Park, Goodman, Vera Court Neighborhood, East Madison, Packers/Northport, and Kennedy Heights Community Center.
11 11 Schools & Community Centers
150 150 Student Performers

Events Search and Views Navigation
May 2020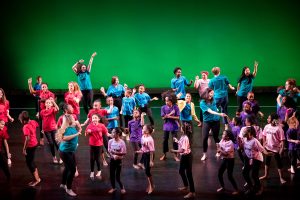 Join us at the Performing Ourselves Showcase as we celebrate the love and joy of movement with our youth participants!
Find out more »
+ Export Events