Author: Aaron Deets (MA-ACE Candidate, UW Arts Collab Intern) he/him
Published: October 31, 2021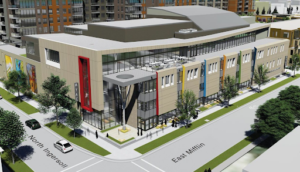 The new Madison Youth Arts Center (MYArts). MYArts has yet to hold an official grand opening (slated for spring 2022); however, the UW Community Arts Collaboratory (Arts Collab) and its programs: Drum Power, FauHaus, Performing Ourselves, and Whoopensocker, are already using the facility. MYArts features over 65,000 square feet of space designed for youth artists, ranging from 15 studios and rehearsal spaces to the 300 seat theatre on the fourth floor of the building.
While MYArts has been a dream for the arts community for years, it became a reality in April 2020 when MYArts broke ground. In September of 2021, the finishing touches are being completed, and Arts Collab's programming will be fully operational in January 2022.
The UW Arts Collab team launched programming  at  MYArts in September  2021 and are excited about having a home base for our youth across programs. I sat down with Stephaine Richards, UW Arts Collab Manager, to talk about this opportunity with MYArts means. 
Aaron: What's your role at UW Arts Collab?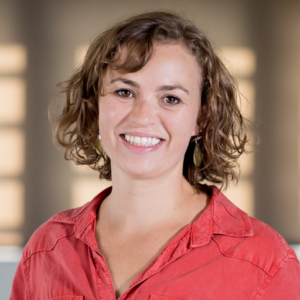 Stephaine:  I wear many hats; one of them is managing programs and supporting the admin functions of our programs. Another hat is development, grant writing, donor stewardship. The third hat is partnerships, including our role in Ensuring Arts for Any Given Child Madison, a collective impact model that seeks to ensure that every child in Madison has access to the Arts. The fourth hat is supporting our research efforts, including the National Endowment for the Arts research Labs Grant.
A: What does UW Arts Collab's involvement with MYArts mean for students in Whoopensocker, Drum Power, FauHaus, and Performing Ourselves?
S: I think that there are two main things that our involvement at MYArts means for students.  First, the building itself is a state-of-the-art facility, unlike anything that students have been in before. Our programs typically were in schools and community centers. Often in rooms not designed for the kinds of activities, we do with children like cafeterias or carpeted rooms where we had to move aside all the furniture to do movement activities. At MYArts, the studios are designed for the kind of activities that will be done with kids. The other thing it means for students is there will be so many things happening–a kid might come for Performing Ourselves dance class and see Drum Power, FauHaus, or Whoopensocker, or Children's Theatre of Madison, or any other partner organization, and be inspired to try something different from what they came for. I think one of the many goals of this building is to cross-pollinate across organizations and art forms. I believe the building's set up to do that!
A: What's your favorite part of the new MYArts building?
S: There are so many parts that I love! I'm excited about the costume shop because I love costume design and sewing machines. I have been sewing since I was 12, and I'm excited that this building has that space where kids can get exposed to everything it takes to make costumes. I love that everything on-site could inspire kids to explore–the production shop, CTM's costume closet that's the most fantastic thing ever, and the black box theater. I love the natural light, it's bright and colorful, and there will be even more art on the walls. This building will inspire curiosity, which is part of the mission of MYArts.  I hope that kids will be inspired and curious about all the things that happened in this building. 
A: When will UW Arts Collab's programs begin using the space?
S: We already are! Drum Power has been rehearsing with its Advanced Group, Performing Ourselves has held weekly dance classes with our partners from Northport and Packer Community Learning Centers, and Whoopensocker's company has been meeting for training and planning a new extended program. We will ramp up more this fall and hopefully be fully functional with everything we've envisioned doing in this building starting in January of 2022.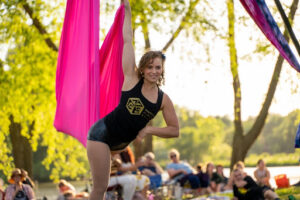 A: What's something others may not know about you when they first meet you?
S: People might not suspect that I'm an aerialist. Circus is my primary art form. I teach kids aerial silks and perform on the aerial sling. I produce events that take place at Madison Circus Space and other venues in and around Madison. I helped fundraise for MCS's new facility that opened in October of 2019. I have many hobbies like paddling, camping, textile arts, and Latin dancing, but the circus is always my number one passion.