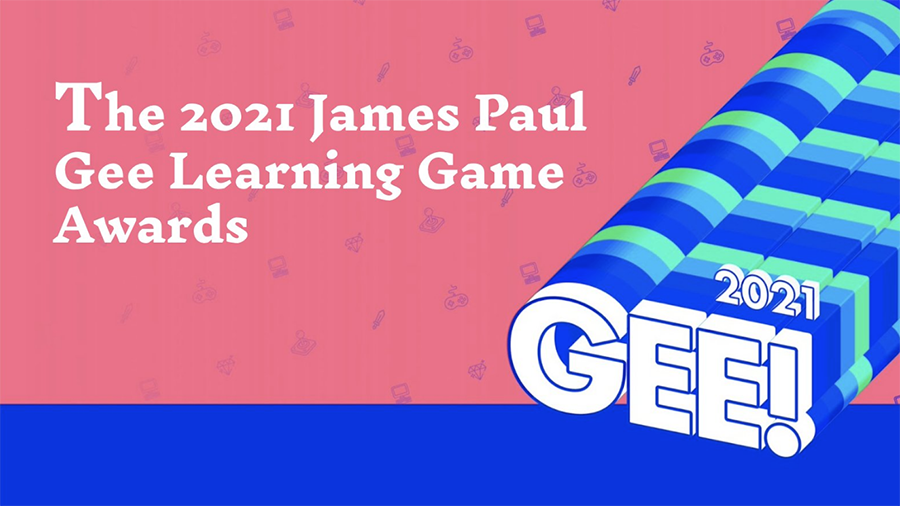 The 2021 James Paul Gee Learning Games Award winners were announced at this year's Play Make Learn Conference on August 5.
In the spirit of James Paul Gee, Emeritus Professor at Arizona State University and a former University of Wisconsin–Madison Professor, judges looked for video games that were fun, educational, and novel. Judges asked whether the games empowered learners, created problems worth solving, were visually interesting, and more when making the final decisions. Finalists showcased their games online during this year's virtual 2021 Play Make Learn conference.
The winner of the Student Created category was The Nomads by Jiaqi Yu, an augmented reality mathematics board game. Players solve context mathematics problems as they lead their people through mountains, plains, and deserts while collecting resources for survival. A computer version of The Nomads allows easy access for students on the internet.
In the Middle School and up category, the winner was Radio General by Foolish Mortals. In this game, players take command of a Canadian army and strategize their way to success in campaign missions or player-designed challenges. With single and multiplayer options, this game tests wit and decision making.
In first place for the Elementary School category was Operation Investigation by Hero Elementary. In this family-friendly game, players use their superpowers of science to investigate and compare animal traits. Families and friends can test and review animal traits while also adding their own animals to the game, leading to endless scientific fun!
The winner of both the Informal Learning category and the People's Choice Award was Mars Horizon by The Irregular Corporation. In this strategy simulation game, players take control of a space agency in an effort to reach Mars. Players can design space vehicles, manage crew and space centers, and launch their way to the Red Planet!
With 18 fantastic finalists, the judges had many tough decisions to make. Judges for this year's awards included Erik Harpstead from Carnegie Mellon University, Bobby Lockhart from Code Combat & Important Little Games, and PBS Wisconsin's Jessie Nixson. The competition leads were Kate Ficai, Spencer Tennant, Jenn Scianna, Amanda Callitz, Barry Joseph, David Gagnon, and David McHugh.
To learn more about the 2021 James Paul Gee Learning Games Award, judges, competition leads, and view all 18 finalists, visit the GEE! Awards website!
You can find information about the 2020 James Paul Gee Learning Games Award winners and finalists, including Beats Empire by Filament Games, Codemancer by Important Little Games, and Race to Ratify by iCivics, in this blog from PLACE.