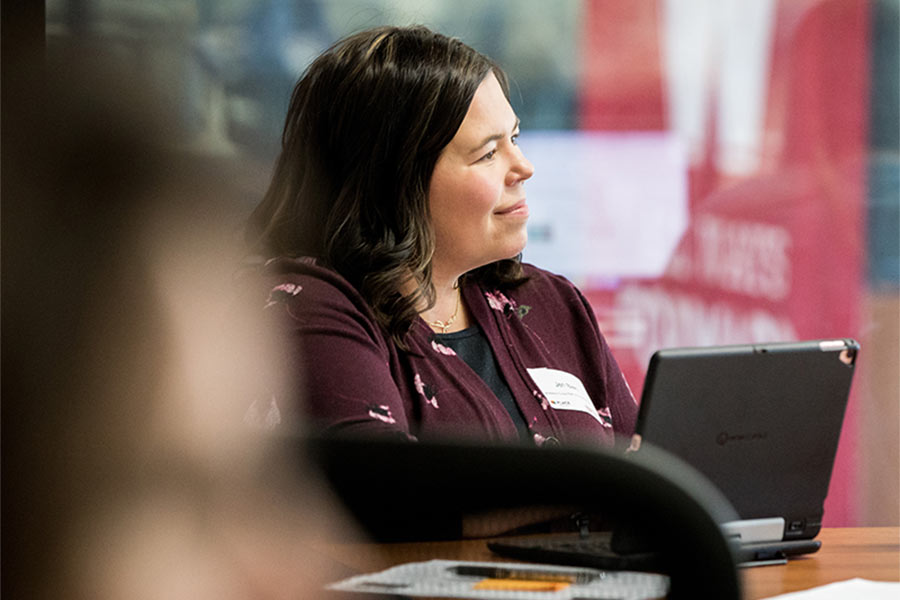 Zaretta Hammond is a "former writing teacher turned equity freedom fighter."
On May 11, Hammond joined an online session of Courageous Coaching Conversations, a weekly gathering of instructional coaches and school leaders produced by PLACE, on the topic of how to better support our students and our colleagues during this time of distance learning. 88 participants joined us from Colorado, Michigan, California, Illinois, Minnesota, New York, New Jersey, Iowa, Beijing, and all over the state of Wisconsin.
One of the very first questions she asked was, "What are you seeing with student engagement during the time of remote teaching and learning?"
A flurry of answers came in. Social-emotional learning, ongoing issues of equity, such as geographic discrepancies in who is able to engage in online learning, and more.
Hammond pointed out that remote learning is showing a gap and process of inequity by design.
"Despite all our money and effort in some places, it just seems resistant to closing the achievement gap," she said.
Hammond explained that there are multiple types of gaps educators need to cross.
When Hammond spoke about the learning gap, she talked about the need for our students to think critically, to engage in productive struggle. Instead, we're creating dependent learners. In order to close learning gaps and reduce learning loss, we need to maximize student agency; students must be the agents of their own learning.
She also discussed the differences between engagement and compliance.
Her solution is to focus on nurturing and channeling students' natural learning abilities rather than looking solely at compliance and accountability.
"We need to better understand what natural learning looks like," Hammond said, pointing out maker education, inquiry-based pedagogies, and thinking routines.
She added that teachers can hold onto pedagogies–learning or learning environment interactions between teacher and student–perhaps a bit too much. Set up a learning experience for the student and coach the student instead. Helping students examine, reflect upon, and change learning is important.
Instead of talking about the content, how do we help students learn it for themselves?
And what does this look like with our less advantaged students? Hammond said social and ethnic backgrounds still greatly impact learning in our country.
"We have gotten really OK with black and brown kids being underdeveloped cognitively. You can't just throw a student who can't carry the cognitive load, to actually now go and be self-directed, cognitively independent learners. This is inequity by design."
Those who are cognitively rich get richer, and those who are not will struggle down the road. The narrative of those kids is usually one of not applying themselves, or the family simply not caring about education. That's not the case.
"This is why the conversation has to be 'courageous,'" Hammond said. "Things aren't going to change in 10 minutes, two months, or a year."
She wants everyone to empower their students today. And she also wanted to emphasize that educational inequalities have deep cultural, political, and social roots.
"Apartheid is well and operating," she said.
A path forward when schools open up will have to be made by teachers and parents working closely together.
"We have seen that we are not in partnership with parents in the way we need to be," Hammond said. If we have waves of sheltering in place over the coming months, that partnership will be crucial more than ever.
At the end of the conversation, she wanted to leave educators thinking about rapport and alliance and how it equals cognitive insight. Teacher and student as a coach and athlete or master craftsman and apprentice.
"If you've not set that up before remote learning, it's not going to happen in remote learning," she said of forming that partnership and rapport.
She left the group with one final piece of advice:
"You need to make sure when you say 'all kids,' white kids usually get it at the front," Hammond said. "I need to keep my eye on the most vulnerable; that is the only way it benefits all. When you say 'all,' it does not happen. We have to check our language to truly help kids that are most vulnerable."
One participant left this piece of feedback in response to Hammond's advice:
"I'd like us to continue this talk of what we mean by all. She named it… how do we get comfortable not leading with all (white) and a few extras (non-white). How do we truly put our desire for serving every kid into action? How do we humble ourselves to put kids first? How do we get past our own limitations (and recognize them) to do the learning work so we can educate students well?"
Participants are hopeful that they can do better after hearing Hammond speak about equity.
"I loved hearing from Zaretta Hammond. Made me think about how to change some of my virtual lessons to get students more engaged and student centered."