Come experience the African Diaspora Dance institute in UW–Madison's Summer Arts Studio. This course, featuring daily West African, Afro-Brazilian, and Hip-Hop dance classes, allows participants to learn skills, make art, and build community by dancing into deeper mind, body, and spiritual understandings of ancient and contemporary forms with African roots. Our master teachers and faculty are internationally-renowned innovators committed to sharing their vast experience and joy. Participants will take classes in all three dance traditions daily, along with Drumming for Dancers, Pilates, and yoga on rotation throughout the week.
Please bring a yoga mat or purchase a Summer Arts Studio yoga mat from us when you register.
WORKSHOP LOCATION
Lathrop Hall, 1050 University Ave., Madison, WI 53706
West African Dance – Asane Konte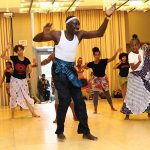 Enjoy learning traditional dances and drum rhythms from the rich cultures of Senegal, Mali, Gambia, and Guinea as Asane Konte promotes communal harmony, self-discipline, sharing, and joy. These are also the movement foundations of African diasporic traditions including Hip-Hop, Afro-Brazilian, and many other dance forms. Konte will lead dancers to develop deeper understandings of African cultural traditions and history while exploring the connection between dance, music, and community.  In-keeping with the mission of the Kankouran West African Dance Company founded in 1983 and the 36-year-old annual drum and dance conference which hosts participants nationally and internationally, this course will be an opportunity for cross-cultural learning and exchange where all are welcome.
Hip-Hop Dance – Duane Holland, Jr.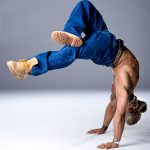 Explore hip-hop dance movement, terminology, history, and cultural practice. Students will learn the five styles of hip-hop (popping, locking, breaking, hip-hop, and house) and the pioneers of these styles. Duane Holland will also present the indigenous geographic origins and roots of funk and hip-hop dance while examining reinventions throughout the 20th century in America, eliminating any space for appropriation. Participants will feel how relationships between the drum, spirit, and body, in connection with the lyrics, manifest joyous dance and theory. Hip-hop culture and dance is a contemporary form of African-American studies that embodies trans-generational conversation through music, dance, fashion, visual art, and theater. This workshop will demystify limited interpretations of the culture and practice by acknowledging the cultural diplomacy, innovation, sophistication, intellect, and joy in hip-hop.
Afro-Brazilian Dance – Quenia Ribeiro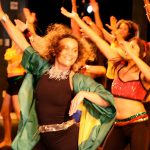 Experience the diverse cultural tapestry of dance, music, and art from Brazil. Choreographer and dancer Quenia Ribeiro celebrates Brazilian and Afro Brazilian culture in its many forms through dance and inspired motion derived from African, Indigenous, and Portuguese cultural traditions. Participants will explore Samba from Rio, Salvador da Bahia, Maractu, and Candomble Orisha dance. Through movement, color, and motion, the course will engage and inspire. Since its inception in 2007, Choreographer Quenia Ribeiro's mission for Grupo Ribeiro has been to unite different cultures through a mutual appreciation of dance and music. This course will further that mission through joyful dance in community.
Drumming for Dancers – Yorel Lashley
Experience a drumming class that focuses on learning West African, Samba Batería, and some Hip-Hop technique by learning to play the rhythms that participants will be dancing in the West African, Afro-Brazilian, and Hip-Hop classes. Participants will also learn the history behind the drum rhythms and their relationships to the dances as well as their musical relationships to the movements from a dance-based perspective rather than a music theoretical perspective. Take a journey through the rhythms and deconstruct their cultural elements beginning in African drumming, then moving to Brazil and the Caribbean, and finishing in the United States with roots in jazz and hip hop. This opportunity will further the mission of Drum Power to bring drumming to the fore as a powerful tool for the explicit artistic and personal practice of discipline, community, leadership, and fun.